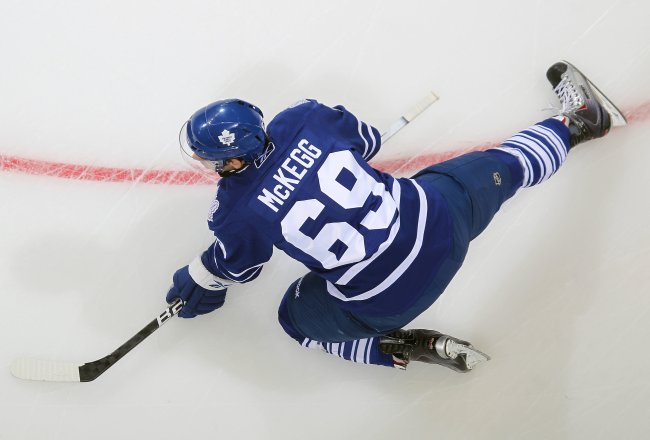 Claus Andersen/Getty Images
Congratulations everyone, the NHL lockout is over. I know a lot of you said you would never come back and that "enough is enough" (I flirted with the idea myself) but let's not kid ourselves, you're wearing your Toronto Maple Leafs hat, boxers and socks right now, just like me. Now that the handshakes are over and meaningless apologies have been handed out it's time to start doing what we all do best: bitching about the Toronto Maple Leafs.
I would love to go over every single hole that this roster has but I also don't feel like writing until the crack of dawn. So here are a couple:
Goaltending
Even after his putrid 2011/12 season I still believe James Reimer has the ability to be a number one goalie. Reimer was very good at the end of the 2010/11 season and the beginning of 2011/12 until Brian Gionta nearly took his head off a month into last season (
video
) so I think it's obvious he didn't suddenly forget how to stop pucks (.933 ES SV% 2010/11). It is likely that he was suffering from a concussion almost all season. Even though it's likely Reimer bounces back, at least to a degree, this is still a huge question mark for the Maple Leafs.
The Maple Leafs were 28th in Fenwick Close last season. What this means is: the Maple Leafs were a very, very bad possession team when a game was close and probably should have finished worse in the standings then they did. In reality the Maple Leafs were quite terrible no matter what the score was other then when they were playing catch up (you can check out Team Fenwick stats
here
).
What I'm getting at here is the Toronto Maple Leafs likely need some kind of Patrick Roy, Dominik Hasek combination to stop enough of the pucks that will be thrown towards the Leafs net to be considered a legitimate Stanley Cup contender. Obviously the easy fix is to give Vancouver whatever they would like for Roberto Luongo but I just don't see how trading futures for him 1) wins this team a Cup during his tenure here and 2) makes this team better when our young D prospects are playing in the NHL.
Defense
The defense did get better with the subtraction of Luke Schenn. He was abysmal in his time with the Maple Leafs. Last year with the club he played the third softest minutes and rang in the worst Corsi REL of all Leafs defensemen. With a guy like Mike Komisarek on your team, that is damn hard to do.
Even though we jettisoned our (arguably) worst defenseman (how disappointing is it that that's even something that can be argued?) this defense corps still has a lot of holes. As I see it we have four defensemen under contract that have proved they can play NHL minutes in Dion Phaneuf, Carl Gunnersson, Jake Gardiner and John-Michael Liles. Cody Franson should be this teams 6th defender come opening night but it remains to be seen if Burke uses him as a trade piece and / or Randy Carlyle has awoken from fairy tale land where Mike Komisarek deserves minutes over him.
This leaves the Leafs looking for TWO top four defensemen. These guys don't grow on trees. Matt Carle who is likely a second pair defenseman on a cup contending team got six years, 5.5 Million per in free agency this summer. To that I say: good luck Brian Burke.
I'm not even going to get into the fact that Burke has so many bottom six forwards under contract that it's going to make it impossible for Kadri and Frattin to both make the team (they both should) unless he waives some veterans or finds some poor sucker to take a crappy hockey player on a bad salary.
Of course I could look like a total fool at the end of the season when the Leafs squeak into the playoffs with a 1100 PDO. Who knows, bring on the season.